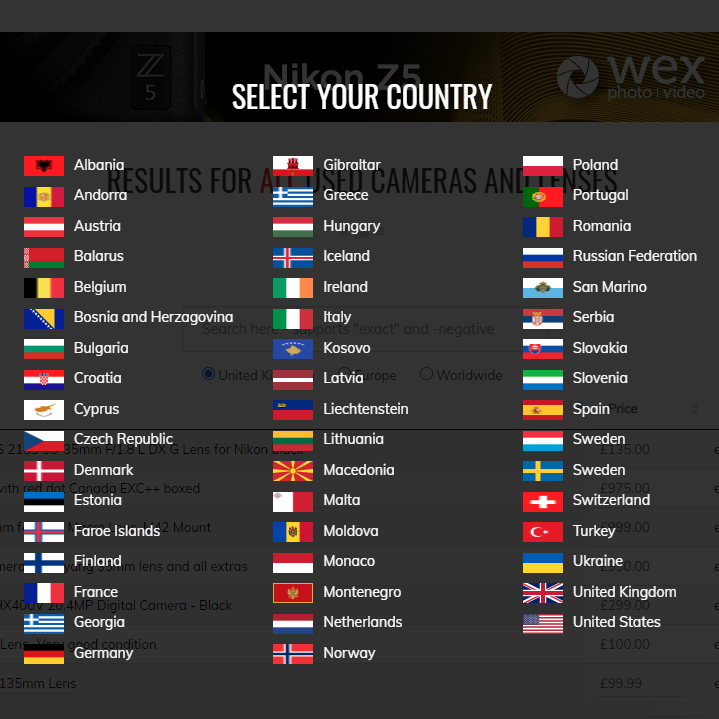 Expanding usedlens.co.uk to cover retailers in Europe and the United States is well under way. I'd love your help with finding retailers to add. Please comment on this blog post or email me at info@usedlens.co.uk if you have suggestions.
In the future.
When you login to usedlens.co.uk, it will try to determine your country otherwise choose the 'Not from country?' link at the bottom of the product table to make your selection, your selection will be remembered for future visits.
If I have added retailers for your selected country, the default search will be to show those local to you. You will have the option to expand your search results to Europe or Worldwide. If there are no retailers yet added for your country it will default to Europe.
When you view results for Europe or Worldwide it will only shows you those products from retailers who have said they will ship to your country. Whilst I check all the retailers manually for this information, it may be that some retailers review international orders on a case-by-case basis. Typically shipping charges will be higher and there may be import tax/duties to pay.
Note that MPB in the UK, FR and DE all have the same products, when it goes live the optimum option will be displayed. Someone in France will not see UK/DE as shipping is cheaper from their local MPB.
I work long hours every day adding retailers and improving site performance to handle the ever growing database, I'm excited for the day I can share this with you all.